Top 1551-1600 Security & Privacy Programs (from 3485 category titles)
Order programs after downloads or name (currently are listed after downloads)


1551) Spylo PC Monitor 2.00
Flexible security monitoring software for parents, small businesses etc.

---
1552) CHAOS' Doors 3.7
CHAOS' doors is opened in a world of safety.

---
1553) SPAMfighter Exchange Server Module 1.2.1
SPAMfighter Exchange Server module (SEM) is the easy to use Exchange server module for small and medium businesses.

---
1554) Easy File & Folder Protector 5.1
Password protect files and folders by a time schedule

---
1555) Shield Pro AntiVirus and Firewall 2008.019
Anti-Virus AND Firewall Protection for 2006, Protect your Computer from Viruses.

---
1556) Personal Passworder 3.8
Personal Passworder keeps more than just passwords!

---
1557) Micro Antivirus Deluxe 2006
Automatically Detects and Removes Viruses, Trojans, Spyware and online threats.

---
1558) BT Watcher Pro 1.5.0
Use your mobile phone to lock and unlock your computer screen automatically.

---
1559) HTML Password Lock 4.6
Password protect html pages, web pages and whole web site in jsut a few clicks.

---

1560) MD5 Password 1.0.292
A tool to recover a password if its MD5 hash is known.

---
1561) KGB Spy 4.21
Monitor how your employees use their work-time and log everything they type

---
1562) VirusRescue 3.0.1
VirusRescue is a powerful and easy-to-use Trojans and Viruses Scanner & Remover

---

1563) AQL htpasswd & htaccess Password Manager 2.40
A website user-manager and htpasswd generator, it controls access to any webpage

---
1564) SpyNoMore?, The Only Anti-Spyware buildi 5.3
SpyNoMore?, The Only Anti-Spyware You Will Ever Need!

---
1565) FileMaker Password Recovery 1.0b
Recovers lost or forgotten passwords for FileMaker databases.

---
1566) NTkrnl Protector 0.1
NTkrnl Protector is a new and unique secure metamorphic technology

---
1567) Keyboard Monitoring Tool 5.0.1
Keylogger software monitor laptop pc keyboard activitie secretly record password

---
1568) WinCrypto 1.3
The Application helps to encrypt and decrypt sensitive information.

---
1569) DriveSentry 3.1.2
DriveSentry - FREE, next generation, combined AntiVirus and AntiSpyware solution

---
1570) SecuBox for Pocket PC 1.5.2
Encrypt your Windows Mobile phone and its media cards.

---
1571) Noing Privacy Eraser 4.1.97
Protect your data and privacy and remove all evidence of your computer

---
1572) Worth Privacy Suite 5.4.66
Removes all data from hard drives or disk partitions

---

1573) Encrypt Files 1.5
Free software to securely encrypt files and folders, 13 encryption algorithms!

---
1574) Unrest 1.0
Removes restrictions from limited user accounts, and is modifyable to fit needs.

---
1575) Actual Invisible Keylogger 1.5.5.7067
Actual Invisible Keylogger is the most powerful stealth keylogger software.

---
1576)
Take-Away USB Flashdisk Encryption 1.0.2.10
---
1577) Xidie Security Suite 2.1
Xidie help you to protect computer files and folders and safely store them

---

1578) Yahoo! Messenger Spy Monitor 2008 6.21
Record employees, children and spouse's Yahoo! Messenger chat text.

---

1579) MSN Spy Monitor 2008 6.21
Spy employees, children and spouse's chat on MSN Messenger.

---

1580) SpyPal MSN Messenger Spy 2008 5.6
Secretly record all MSN Messenger and Windows Live Messenger messages.

---

1581) Internet Access Controller 3.1.0.84
Restrict, block, limit internet access or web sites specified schedule, time

---
1582) Rising Antivirus 2008 20.38
Provides extensive and continuous protection for your home and office computers.

---
1583) The Lock XP 5.06.0102
Provides regulation compliant access control and security for Windows.

---
1584) Password Security Vault 2.0
Store Internet Password Accounts in a Secure MS-Access Database File

---
1585) Proteg Enterprise 2005 4.3
Proteg is a security software that enables you to use your portable USB storage device (USB key, USB flash drive, thumbdrive) for to enhance Windows logon, authentication or access control security.

---
1586) PassCrypt 2.1
Securely store passwords and credit card numbers for quick access while surfing.

---
1587) DiscoverStation 4
Affordable and worry-free management tools and software for public computing.

---
1588) SecureCentral ScanFi Free Edition 4.1
Discover, Report, and Remediate system and software vulnerabilities

---
1589) Safe n Sec Plus Antivirus 2.0.1610
Traces activity of ALL applications and blocks those which actions are malicious

---
1590) Spy-Buster 1.0
Spy-Blaster scans your hard-drive for adware and spyware.

---
1591) Shield 2005 Deluxe- Anti-Virus, Anti-spy 2005
Shield Deluxe 2005 provides protection from viruses, spyware and privacy threats

---
1592) Email Security Bulldog 1.2.1
Plug-and-play email security. No updates! Removes viruses,scripts,popups,hoaxes.

---
1593) ZoneAlarm Plus 4.5.538
Keep your personal data and privacy safe from Internet hackers and data thieves

---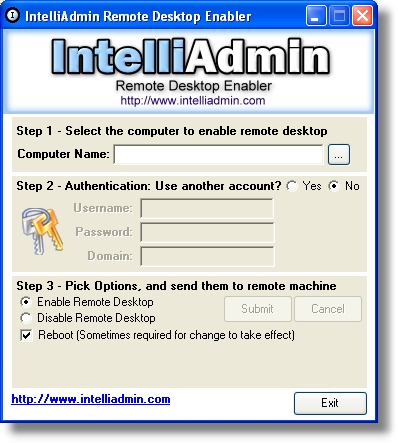 1594) Remote Desktop Enabler 2.0
Enable Remote Desktop - Remotely

---
1595) Easy Disk Drive Safeguard 3.41
Password-protected security utility to hide and lock local, network, USB drives.

---
1596) BT Watcher 1.5.0
Use your mobile phone to lock your computer screen automatically.

---
1597) Private Notetaker 2.1
A portable application that combines a text processor and an encryption program.

---
1598) Dekart Password Carrier 2.05
Portable and secure password manager: supports Vista, protects your online ID

---
1599) Lock My Computer 9.41
Desktop security solution for personal or publicly accessible computers.

---
1600) Viaclean 7.1
Effective Internet Washer program

---


Browse Pages: [1] [2] [3] [4] [5] [6] [7] [8] [9] [10] [11] [12] [13] [14] [15] [16] [17] [18] [19] [20] [21] [22] [23] [24] [25] [26] [27] [28] [29] [30] [31] 32 [33] [34] [35] [36] [37] [38] [39] [40] [41] [42] [43] [44] [45] [46] [47] [48] [49] [50] [51] [52] [53] [54] [55] [56] [57] [58] [59] [60] [61] [62] [63] [64] [65] [66] [67] [68] [69] [70]