Top 51-100 Security & Privacy Programs (from 3485 category titles)
Order programs after downloads or name (currently are listed after downloads)



51) 007 Spy Software 3.86
Secretly record activities of computer users and deliver logs via Email or FTP.

---
52) Free SpyLocked Removal Tool 1.0.0.1
A free tool to remove spylocked with no ads, banners or promotions.

---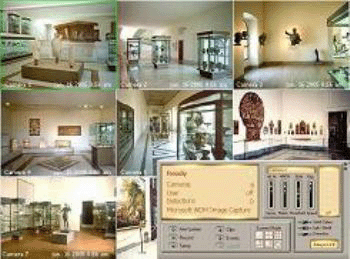 53) EasyCCTV 2.1
"Video surveillance system "

---

54) TaskPatrol Personal 2.0.0
Advanced process viewer and security analyzer with intuitive user interface.

---
55) Keylogger Pro 1.7
Secretly record and capture all keystrokes typed when you're not around!

---
56) ShadowIMSniffer 4.01
Shadow IM Sniffer - ICQ Sniffer, MSN Sniffer, AOL Sniffer, Yahoo Sniffer.

---
57) Password Manager XP 2.0.281
Store your passwords securely at local computer and USB flash drives.

---
58) Lotus Word Pro Password 1.2
100% Recover Lotus Word Pro files passwords and TeamSecurity passwords

---
59) Free ICQ Password Recovery 1.5
FREE ICQ Password Recovery can recover passwords to all icq versions!

---

60) tcpdump for Windows 3.9.8 build 4.1
TCPDUMP for Windows, command-line network sniffer

---
61) PC Private Eye 4.0
PC Private Eye is a software product that puts your PC to work even when you aren't there

---
62) Free Drive Encryptor 1.5
Free Virtual Hard Drive Encryption Software for Windows

---
63) Tiny Shredder 1.2
Tiny Shredder will completely erase files from your disk.

---

64) Keylogger Review 1.0
Keyloggers` features and testing results - more than 80 criteria

---
65) Hide Window Hotkey 3.1
Hide applications quickly by Hotkey.Auto resize programs,transparency windows.

---
66) Windows Spy 1.003
Monitors a remote computer by streaming video to a viewer on your computer.

---
67) Splitcam Clone Video 3.19
SplitCamera is a freeware virtual video clone and video capture driver

---
68) BitDefender Antivirus Plus v10 10
Antivirus, Antispam, and Firewall for your Personal Computer

---
69) Asterisk Password Unmask 2.1.0.8
Password unmask show login form text box asterisk character **** hidden password

---

70) WinGuardian 3.0
a valuable tool for monitoring the activities on a computer

---
71) Spyware Nuker 2006
Spyware Nuker, the best anti-spyware protection available. Scan your PC FREE!

---
72) BitDefender for ICQ 1.2
Block all viruses threatening the system as a result of file transfers through ICQ

---
73) Crime Catcher 3.0
Webcam software allowing your computer to be a security / surveillance system.

---
74) Folder Guard Professional 7.3
Powerful Security and Access Control Utility

---
75) Free Key Logger 1.6.14
Free Key Logger records everything that has been typed on a computer's keyboard.

---
76) Proactive Password Auditor 1.60
Password auditing and recovery software for Windows 2003/XP/2000/NT.

---
77) GIANT AntiSpyware 1.0
There is a GIANT difference between everyday anti-spyware programs and GIANT AntiSpyware

---
78) Active Watch 3.0
ActiveX monitor and controler

---
79) Spy Cleaner Pro 9.6
This application is great for those who want to know exactly how their computer

---
80) Folder Lock 6.4.1
Lock or Encrypt files, folders, drives and USB drives in seconds.

---
81) InTouch Lock 2.5
Restricts access to files, folders, programs, Web and more than 80 OS features

---
82) X-Blocker 2.1.1.0
SchĂĽtzen Sie ihre Dateien, Programme oder Ihr gesamtes System vor Fremdzugriff!

---

83) DCPP 3.9
Offers AES 256 bit, full disk encryption. Hides the entire operating system

---
84) X-Con Spyware Destroyer 3.2.1
An indepth anti-spyware program with no frills, just heavy spyware removal.

---
85) Remove Netmeeting 1.2
Remove Netmeeting from your computer

---
86) SpywareBot 1.0.0.0
removes malicious spyware to protect your computer from outside threats.

---
87) Dialup Password Recovery 1.2
Recover your lost or forgotten dial up passwords saved behind asterisks.

---
88) Security Toolkit 0.6
Create Encrypted Drives, Shred Sensitive Files, Erase Internet History. Freeware

---
89) PC Pandora 4.068
Record all secret passwords and monitor all computer and Internet activity.

---
90) Access Administrator Pro 5.05
Protect your files and stop others from being able to start, see, change, delete

---
91) Protea AntiVirus Tools, Quick Heal version 2.00.04
Protea AntiVirus Tools for Notes/Domino, Quick Heal version

---
92) Desktop Scout 4.0
Secretly record and monitor any PC in the home, school or office remotely.

---
93) Spytech SpyAgent 4.41
A powerful monitoring solution with tons of features and configuration options

---
94) Crypto4 PKI 2.1
Create and manage X.509 certificates, certificate requests and revocation lists.

---
95) Outlook Express Password Recovery 2.5
Recover Outlook Express password with Outlook Express Password Recovery tool

---
96) Hidden Recorder 1.7
Automatically saves desktop screenshots to disk at the specified time intervals

---
97) WinAntiVirus Pro 2005 2.0
View images and photos as slide shows with different effects at your computer.

---
98) WinSoS Anti-Spyware 2.2
Delete spyware and optimise your computer ,your computer repaired by a remote IT

---
99) PC TimeWatch 1.4.6.1
Allows to control when and for how long programs and connections are used

---
100) EfreeSoft Boss Key 3.30
EfreeSoft Boss Key allow you to hide active program window immediatlly.

---


Browse Pages: [1] 2 [3] [4] [5] [6] [7] [8] [9] [10] [11] [12] [13] [14] [15] [16] [17] [18] [19] [20] [21] [22] [23] [24] [25] [26] [27] [28] [29] [30] [31] [32] [33] [34] [35] [36] [37] [38] [39] [40] [41] [42] [43] [44] [45] [46] [47] [48] [49] [50] [51] [52] [53] [54] [55] [56] [57] [58] [59] [60] [61] [62] [63] [64] [65] [66] [67] [68] [69] [70]