Top 4251-4300 Internet Programs (from 12361 category titles)
Order programs after downloads or name (currently are listed after downloads)


4251) ATS MultiPage Control Center 1.0.0
Open, control, hide simultaneous web pages, administer your links and much more

---
4252) Bombino (3) 2005 1.1.0
skype plugin for calling through Skype from ordinary (remote) phone

---
4253) ContentSaver 2.0
Archives researched Web pages and organizes them offline in a database

---
4254) Domain Manager Pro 1.0.7
Domain Manager Pro allows you to store all your domains.

---
4255) E-Store Builder Modules Support 2.5
One of the most powerful eCommerce Solutions in the world

---
4256) SMSCaster E-Marketer 2.5
Send bulk SMS from PC to your customers via mobile phone connected to PC !

---
4257) Trellian SiteSpider 1.00.004
Trellian SiteSpider is a powerful web crawling program

---
4258) TZ Privacy Guard 3.1.0.0
TZ Privacy Gaurd lets you encrypt and lock your IE favorites and history folders

---
4259) Watson 22SP4
Watson by Intellext - search tool automatically finds and delivers results

---
4260) Weather Signature 1.0
WeatherSig displays your city weather conditions in your email signature

---
4261) BitComet Turbo Accelerator 3.3.0
BitComet Turbo Accelerator is an effective plug-in for BitComet P2P

---
4262)
KH Blocker 2.0
---
4263) Rozmic Firewall 1.1
Rozmic Firewall, a security service that protects your Internet gateway.

---
4264) Hidden Administrator 3.1
Software for administrating remote computers via a local network or the internet

---
4265) BitTorrent Mp3 2.8.0
BTM is a free file sharing software that allows users to search.

---
4266) Workspace Macro 4.6
Keyboard macro & mouse macro, Macro recorder & Macro program for Windows macro.

---
4267) Aloaha SPAM rejector 3.1.61
Innovative server based AntiSPAM Solution. Incl. SPF Support!

---
4268) WebAngels 1.0.1
make you browse the web more conveniently

---
4269) SmileCamFX 1.0
SmileCamFX: Powerful webcam broadcasting software for mobile and web monitoring.

---
4270) Chrysanth Email Notifier 2.3
Get notified with every incoming email and even spams!

---
4271) Pullit 1.0
Pullit is a picture robot that crawls websites, searching for jpeg''s and gif''s

---
4272) GSM Control 1.0.1.0
Take control of your Siemens mobile and expand its features

---
4273) Flash FTP Server 1.0
Flash FTP Server is a powerful, flexible, and

---
4274) ConnectStorm Server 1.0.0a
A rich media fileshare server supporting up to 32 simultaneous users

---
4275) Surf Logger 2.0.1913
James Bond's gadget for forgetful PC users, loving mothers, and fooled bosses

---
4276) Scroll Image 2.0
This new scrolling viewer displays a much larger image in a smaller window.

---

4277) MSN Winks Remover 1.0
Easily remove installed Winks from MSN Messenger 7.

---
4278) IE Buttons 1.0
Add Custom Buttons to Internet Explorer

---
4279) Web control 2.1
Stop Popups dead in their tracks.

---
4280) Search Favorites 1.5
Maximize the value of IE Favorites. Fast search finds lost, saves new, drops old

---
4281) DriveHQ FileManager 3.8
Online Storage, sharing, publishing, synchronization, FTP, like a local drive

---
4282) eMailTrackerPro 2006 6.1d
Email analysis tool tracks email messages back to the sender

---
4283) Dynamic Submission Web Promotion Suite 7.254SE
Internet marketing and web promotion tool.

---
4284) Akutus 1.4
Do you like watching webcams? It has never been easier than Akutus.

---
4285) BackRex Mail Backup 2.5
Backup email messages, address book, IE favorites, and mail reader settings

---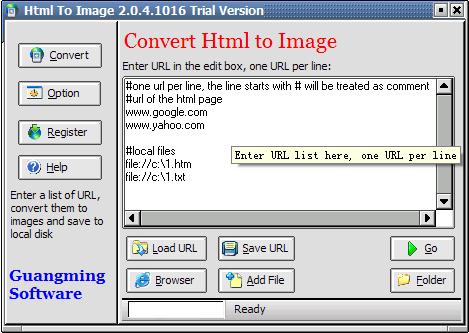 4286) Html To Image 2.0.2010.501
convert html page from any URL to image or thumbnails easily and quickly.

---
4287) PAL Popup Eliminator 1.0
Get PAL Popup Eliminator and put an end to those annoying Internet pop-ups ads!

---
4288) TZ Popup Killer & Ads Filter 4.6.0.8
Kill Pop-Ups & Increase Privacy, Increase Surfing Speed and Enjoy The Net Again!

---
4289) ReDiSoG Animated chat 1.0.7
ReDiSoG Animated chat is a real time chat.

---
4290) ListMotor 2.1
LisMotor is a powerful and easy to use application for e-mail lists management.

---
4291) SmartProxyHelper 1.50
A powerful software to be capable of proxy searching, checking and assignment.

---
4292) IglooFTP PRO 3.9
FTP Client featuring simultaneous FTP / FXP sessions with SSL support.

---
4293) Image Downloader 1.2.0
Free software to easily download sets of images from web pages

---
4294) Play The Web 1.46
Display HTML, RSS feeds, PowerPoint or Flash files on a web kiosk and live update these files through the web

---
4295) System Recon 2.0
System Recon is a tool for Parents and Administrators to find and delete adult material from a system.

---
4296) polydown 0.1
polydown reads a list of URLs from a standard text-file and downloads them serially.

---
4297) Atomic List Manager 3.30
Simple and straightforward mail-list management solution for e-mail marketers.

---
4298) Open Sesame Spam Blocker 1.0.0
Deletes email unless it comes from someone on your list or contains a password

---
4299) MetaProducts Integra 1.0
MetaProducts Integra detects all downloads in your favorite browser

---
4300) Rolesoft Messenger 3.19
Rolesoft Free Messenger Server and Client

---


Browse Pages: [1] [2] [3] [4] [5] [6] [7] [8] [9] [10] [11] [12] [13] [14] [15] [16] [17] [18] [19] [20] [21] [22] [23] [24] [25] [26] [27] [28] [29] [30] [31] [32] [33] [34] [35] [36] [37] [38] [39] [40] [41] [42] [43] [44] [45] [46] [47] [48] [49] [50] [51] [52] [53] [54] [55] [56] [57] [58] [59] [60] [61] [62] [63] [64] [65] [66] [67] [68] [69] [70] [71] [72] [73] [74] [75] [76] [77] [78] [79] [80] [81] [82] [83] [84] [85] 86 [87] [88] [89] [90] [91] [92] [93] [94] [95] [96] [97] [98] [99] [100] [101] [102] [103] [104] [105] [106] [107] [108] [109] [110] [111] [112] [113] [114] [115] [116] [117] [118] [119] [120] [121] [122] [123] [124] [125] [126] [127] [128] [129] [130] [131] [132] [133] [134] [135] [136] [137] [138] [139] [140] [141] [142] [143] [144] [145] [146] [147] [148] [149] [150] [151] [152] [153] [154] [155] [156] [157] [158] [159] [160] [161] [162] [163] [164] [165] [166] [167] [168] [169] [170] [171] [172] [173] [174] [175] [176] [177] [178] [179] [180] [181] [182] [183] [184] [185] [186] [187] [188] [189] [190] [191] [192] [193] [194] [195] [196] [197] [198] [199] [200] [201] [202] [203] [204] [205] [206] [207] [208] [209] [210] [211] [212] [213] [214] [215] [216] [217] [218] [219] [220] [221] [222] [223] [224] [225] [226] [227] [228] [229] [230] [231] [232] [233] [234] [235] [236] [237] [238] [239] [240] [241] [242] [243] [244] [245] [246] [247] [248]