Top 151-200 Web Development Programs (from 3929 category titles)
Order programs after downloads or name (currently are listed after downloads)


151) CoffeeCup Flash Form Builder 5.0
A drag and drop program that creates the most unbelievable Web Forms !

---
152) VenusValley Live Support 1.1
Provide live support, instant help and chat with customers from your website

---
153) Ewisoft Template Builder 1.1
Stop users from modifying your web template and bring you publicity and customs

---
154) Free-Busy Folder 50504-0002
Make use of Outlook's Free/Busy information when scheduling appointments wit...

---
155) MioToolbox 2.12
Five handy graphic tools.

---
156) UltraStats Site Monitor 1.0
Simple utility to display the real-time traffic graph of your website

---
157) The Search Engine Submission 1.0
Search Engine Submission is the most efficient, powerful, and automated

---
158) PageSpy 1.3.8
The easiest way to show source, analyze forms, query, cookie and more

---
159) Site Translator 2.40
Translate your HTML, ASP and ASP.net files into 7 different languages.

---

160) XML Converter 6.2.11
XML Converter is data conversion tool (Excel to XML, mdb to XML, csv to XML)

---
161) Text Guard 1.1
Text Guard protects information on HTML pages

---
162) Profile Manager Basic 3.0
Highly customizable membership software for web sites

---
163) NetworkActiv Web Server 2.0.0.6
Simple and easy to use Windows based Web Server with a graphical user interface.

---
164) JavaScript Matrix Background 1.0
Add matrix-like effect to background of web pages.

---
165) Macromedia Dreamweaver MX 2004
Macromedia Dreamweaver provides the productivity of a visual Web page layout tool, the control of an HTML text editor, and support for Dynamic HTML in one professional, easy-to-use package. Dreamweaver can be used seamlessly with Macromedia Flash, Fireworks, and Director to develop engaging Web content.

---
166) Straight2web 2.05e
Powerful, fast and simple website content management for beginners and experts

---
167) KaliNews 2.06
Text processor to create stories tagged for easy publishing via mail or ftp

---
168) Shop-Script PRO 2.0
Shop-Script PRO is cost-effective feature rich shopping cart software

---
169) Infatech Enhanced Forum 101
Infatech Enhanced Google friendly Forum. FREE DOWNLOAD

---
170) Ewisoft Web Builder 2.1
Free web editor for beginners and non-web-technical people

---
171) Site Skinner 50803
More and more software can be skinned.

---

172) FindinSite-CD 6.0
Findin-CD is a full text search engine for HTML, PDF, DOC, XLS, PPT and TXT CDs.

---
173) Mexico Postal Code Database (Basic Edition) February.2010
Mexican Postal Codes Database Subscription in text, Excel and Access

---
174) dbQwikSync2mySQL 1.0
Do you need to move your data to mySQL? dbQwikSync2 is a lightweight easy-to-use data migration wizard that will save you hours of frustration trying to move data to your mySQL server

---
175) AccessForms2Web (PHP&MySQL Editon) 1.2.0
AccessForms2Web allows you to convert Microsoft Access forms to your WEB-page.

---
176) Visual Imagemapper 3.1
Create advanced clickable images to use on your webpages.

---
177) DomainMaster 2.01
Organize and manage multiple website data in one program. Track dates and fees.

---
178) Open Relay Filter SE 1.1.0.0
An email server add-on for Windows 2000 SMTP service and MS Exchange 2000

---
179) Xitex WebContent M1 Professional Edition 1.8
Xitex WebContent M1 CMS is a web-based content management system

---
180) HTTPLook 1.25
Test and debug communication over HTTP.

---
181) AblePayments Suite for AbleCommerce 1.4
AblePayments Suite for AbleCommerce - Custom Payment Gateway Solutions

---
182) Macromedia Contribute Trial 2.0
Macromedia Contribute is the easiest way to update content for any HTML website

---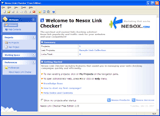 183) Nesox Link Checker Free Edition 2.0
Bulk web link validator, pagerank, link popularity and traffic rank checker

---
184) ProWorks Chart for ASP.NET 1.01
ProWorks Chart for ASP.NET delivers simple-to-use, customized and interactive charts and graphs to your web applications.

---
185) Comment Board 1.0
Comment Board is an ASP based message board product with some exciting and unusual features

---
186) enVivo!CMS Classic 3.52
enVivo!CMS Classic is a powerful yet affordable Web Content Management System.

---
187) SuperScroller 1.0
Customizable scrolling ticker solution.

---

188) Link Checkup 1.3
Monitor advertising links, banner ads, and reciprocal links with ease.

---
189) Whois Online Website Block 1.0
The Whois Online Web modules is a module that lets you show who is currently visiting your site

---
190) Ektron eWebEditPro+XML 4.2
Ektron eWebEditPro+XML is a browser-based editor that empowers business users and developers to author both HTML and XML content in a smart Web forms-like word-processor, hiding the complexities of XML

---
191) Apycom Java Menus and Buttons 4.97
Create professional menus and buttons for your Website!

---
192) indexsoft Site-Up 2.63
Multilingual web based file manager with build-in WYSIWYG editor

---
193) 1 2 3 Web Protect 1.8C
Encrypt, compress and Protect (asp/php/jsp/vbscript/js/html/)

---
194) WebIdeaTree 5.32
Information manager and automatic Web site builder, without HTML coding.

---
195) Rank Tracker 1
Rank Tracker - Track Your Search Engine Rankings Easily! Get Rank Tracker

---
196) Pop-a-Color Value 1.1
A basic color value tool.

---
197) Advanced Keywords Brainstorm 2.11
SEO optimization tool for META tags optimization by deep web page keywords research

---
198) Web-Traffic-Counter 101
Great freeware tool for building quick and cool disposable web page counters

---
199) Golden Keywords 4.11
The easiest way to find fast and accurately Golden Keywords for your web site

---
200) CodeThatHint 1.x.x
CodeThatHint is javascript widget providing the functionality of the tool tip.

---


Browse Pages: [1] [2] [3] 4 [5] [6] [7] [8] [9] [10] [11] [12] [13] [14] [15] [16] [17] [18] [19] [20] [21] [22] [23] [24] [25] [26] [27] [28] [29] [30] [31] [32] [33] [34] [35] [36] [37] [38] [39] [40] [41] [42] [43] [44] [45] [46] [47] [48] [49] [50] [51] [52] [53] [54] [55] [56] [57] [58] [59] [60] [61] [62] [63] [64] [65] [66] [67] [68] [69] [70] [71] [72] [73] [74] [75] [76] [77] [78] [79]