Top 251-300 System Utilities Programs (from 12132 category titles)
Order programs after downloads or name (currently are listed after downloads)


251) Key Remapper 1.02
Key Remapper is an utility to remap or disable individual keys on your keyboard.

---
252) FireDaemon 1.9.2246
A utility to install and run any application or script as a Windows service

---
253) THE Rename 2.1.6
Freeware program to rename files & folders & Multimedia files with many options

---
254) PC Network Traffic Monitor and Analyzer 4.06
PC network traffic monitor, packet analyzer, protocol decoder

---
255) Network File Monitor Pro 2.25.1
Data replication,backup and synchronization software for networks.

---
256) Paragon Partition Manager (Personal) 7.0
Provides easy hard drive partitioning and full-range disk management

---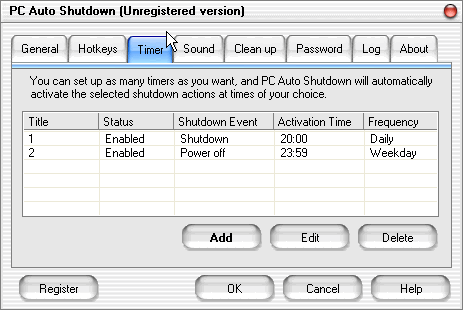 257) PC Auto Shutdown 3.95
auto shutdown,power off, reboot, hibernate or suspend computers at schedule time

---
258) Windows System Optimizer 2.0
Windows System Optimizer is a fast, powerful system cleanup & optimizing utility

---
259) MyUninstaller 1.33
MyUninstaller is an alternative utility to the standard Add/Remove applet of Windows operating system

---
260) Dupli Find 4.0
Searches text, excel & word files for duplicate lines and removes them.

---
261) Subject Search Summarizer 3.1
Creates brief summaries of and translates documents or Web pages you are reading

---

262) Cresotech Convert-It 3.00
Convenient Pocket PC based different measuring system unit convertor

---
263) The Mechanic 2007.817
Repair Any Crashed Hard Drive and Recover Lost Data. 100% Money Back Guarantee!

---
264) Win2PDF 3.0
An easy to use and affordable PDF creation tool for Windows XP/2000/NT.

---

265) Talking Secretary 2.04
Let your computer speak to you and become your reminder and alarm clock.

---
266) Mega Key Viewer 2
Product key viewer for Windows, Office, Works and various other software

---
267) Paragon CD-ROM Emulator (Personal) 3.0
CD-ROM Emulator 3.0: Create your CD/DVD images and virtual drives!

---
268) Data Nuker 2.0.0.1
Shred files, folders and more on your PC using US Government standards Securely

---
269) EngCalcLite(HVAC) - Palm Calculator 1.1
The best selling program for engineers now with new reference tables & Evaluator

---

270) DBF Recovery 2.85
Restore damaged DBF files easily and accurately

---
271) DBF Viewer and Editor for DOS
The most important features are: Keyboard macros Multiple files opening Working with selected cells Export information to different formats: TXT, CSV, SQL, HTML, DBF and more...

---
272) CompleX CD/DVD burner for Total Commander 3.60
The plugins is the best choice for advanced users of Total Commander file manager

---
273) PXE Boot Image for VMware, floppy image 1.0
PXE Boot Image for VMware - Bootable floppy image functions as a PXE Boot ROM

---
274) Cache Speed 2.1
Cache Speed makes your computer go faster by changing the system.ini file

---
275) Virtual Serial Ports Driver XP2 2.0
Two virtual serial ports linked to each other via virtual null-modem cable

---
276) WinRK v2.1.6
WinRK high performance, multi-format file archiver and backup tool.

---
277) RAM Booster .Net 8.0
RAM Booster .Net allows you to instantly free up RAM when system slows down.

---
278) TuneUp Utilities 2007
TuneUp Utilities 2007 optimizes the performance of your computer

---
279) AccPlus 1.1
An utility for Smart Battery control and serial memory programming

---
280) MagicDial 1.1
Simple phone dialer with skin grapfic interface and address book.

---
281) WinXfer 1.0
Transfers files between computers directly connected serially or by modem.

---
282) BootIt Next Generation 1.87
Excellent partition/multi boot manager with features of several programs in one.

---
283) Internet Quotes Assistant 2.95
Get stock quotes from any server for free (incl. import of historical quotes)

---
284) Backup Chunker 2.0
Unique approach to backup & synchronization tasks; Simple with powerful features

---
285) FastSum 1.9
An extremely fast utility for your files integrity control.

---
286) RW - Read & Write 1.2
Access PCI, Memory, I/O, Super I/O, Clock, SPD, SMBus, MSR, ATA, ACPI, EC, USB..

---
287) Oracle SafetyNet 1.01
Free Windows program to automatically back up and export data from Oracle

---

288) EF CheckSum Manager 5.35
File checksum generator and verification utility for the SFV, MD5 and SHA1 fmts

---
289) Abexo Defragmenter Pro Plus 6.1
Automate the steps for an efficient scandisk, disk defrag and optimization.

---
290) Auto ShutDown XP Professional with Auto Login 2003
The most advanced Auto ShutDown with Auto Login application on the market.

---
291) HDDlife Pro 3.0.140
Real-time hard drive statistics, alerts, malfunction protection, free download.

---
292) Alkonost MaxFormat 3.60
Format floppy disks to maximum capacity, make bootable, copy diskettes.

---
293) FileRevival 1.2
FileRevival recovers deleted files from your FAT12, FAT16 and FAT32 volumes

---
294) Xp Visual Styler 1.0
Give your old application Winxp looks and feel.

---
295) ARJ 2.8.1a
A file archiver that compresses files into a space-saving archive

---
296) Kill Winamp 1.61
Close winamp or turn off the computer after a certain number of minutes or songs

---
297) USB-ToolBox 1.0
Spread sheet analysis to go! It runs from the usb-stick so you can calculate on everywhere you want to

---
298) Save Keys 6.0
Save Keys 6.0 is a completely invisible key recorder!

---
299) File Spliter 1.0.0.9
Small utility to split files to a number of smaller parts.

---
300) DirectX 9.0c Redistributable
Microsoft DirectX is a group of technologies designed to make Windows-based computers an ideal platform for running and displaying applications rich in multimedia elements such as full- color graphics, video, 3D animation, and rich audio.

---


Browse Pages: [1] [2] [3] [4] [5] 6 [7] [8] [9] [10] [11] [12] [13] [14] [15] [16] [17] [18] [19] [20] [21] [22] [23] [24] [25] [26] [27] [28] [29] [30] [31] [32] [33] [34] [35] [36] [37] [38] [39] [40] [41] [42] [43] [44] [45] [46] [47] [48] [49] [50] [51] [52] [53] [54] [55] [56] [57] [58] [59] [60] [61] [62] [63] [64] [65] [66] [67] [68] [69] [70] [71] [72] [73] [74] [75] [76] [77] [78] [79] [80] [81] [82] [83] [84] [85] [86] [87] [88] [89] [90] [91] [92] [93] [94] [95] [96] [97] [98] [99] [100] [101] [102] [103] [104] [105] [106] [107] [108] [109] [110] [111] [112] [113] [114] [115] [116] [117] [118] [119] [120] [121] [122] [123] [124] [125] [126] [127] [128] [129] [130] [131] [132] [133] [134] [135] [136] [137] [138] [139] [140] [141] [142] [143] [144] [145] [146] [147] [148] [149] [150] [151] [152] [153] [154] [155] [156] [157] [158] [159] [160] [161] [162] [163] [164] [165] [166] [167] [168] [169] [170] [171] [172] [173] [174] [175] [176] [177] [178] [179] [180] [181] [182] [183] [184] [185] [186] [187] [188] [189] [190] [191] [192] [193] [194] [195] [196] [197] [198] [199] [200] [201] [202] [203] [204] [205] [206] [207] [208] [209] [210] [211] [212] [213] [214] [215] [216] [217] [218] [219] [220] [221] [222] [223] [224] [225] [226] [227] [228] [229] [230] [231] [232] [233] [234] [235] [236] [237] [238] [239] [240] [241] [242] [243]