Top 5401-5450 System Utilities Programs (from 12132 category titles)
Order programs after downloads or name (currently are listed after downloads)


5401) FileShield 1.1
create a password-protected folder on your computer to lock and encrypt files.

---

5402) Email Password Hacking Software 2.0.1.5
Windows applications password hacking cracking software crack email id password

---
5403) PCLoginNow 2.0.5 2.0.5
Reset Windows Administrator passwords, Get Back into Windows Now!

---
5404) 1st Startup Manager 1.0
1st Startup Manager helps manage your startup applications and provides information on programs that run when you start up Windows

---
5405) All Cleaner 6.5
the original and most advanced privacy and PC cleaning tool

---
5406) Fast Font Set 1.10
Fast and easy-to-use utility that allows you selection of fonts

---
5407) RegSpy 1.72
Advanced registry spy(softly tracks registry

---
5408) WinTil 1.0
A desktop enhancement utility that makes using your computer easier.

---
5409) Fresh UI 6.50
A tool for configuring and optimizing Windows

---
5410) WanSpy 1.6
Simple and robust software for monitoring traffic on your expensive WAN links

---
5411) ServiceShell 1.2
Change your normal application program to the Windows service.

---
5412) DirPrinting 0.8.55
View and print disk contents with this simple program.

---
5413) ABSOLUTE PROGRAM UNINSTALL 4.5.3.1243231
Absolute Program Uninstaller Completely removes programs from your computer

---
5414) Binary Comparison of Files 2.0
Utility for comparison of two files in order to find possible distinctions.

---
5415) Mailwall 3.3
Mailwall - Removes all types of e-mail threats before they affect your network.

---
5416) Mihov DiskFree 2.4
Show free disk space, info updated every second.

---
5417) File Editor 2000 3.8
View and edit any file using this ASCII / Hexadecimal editor.

---
5418) O&O Defrag Server Edition 6.5.851
O&O Defrag V6

---
5419) Backup Plus DVD Edition 1.0
Backup your data easily to CD and DVD media

---
5420) DefaultPrinter 1.5
A tool for creating jigsaws from user pictures and video files.

---
5421) PC Activity Monitor Lite 7.7
Powerful monitoring solution with Unicode support.

---
5422) AnyWhere Pro 6.3
Copy move zip replace text and securely delete files with one simple right click

---
5423) FirmTools PhotoPrinter Pro 2.0
PhotoPrinter allows you to save money on expensive photo paper

---
5424) NLauncher 1.6
NLauncher offers direct, one-click access to any program, folder, file or URL.

---
5425) Infima Jpeg Optimization SDK 1.3
Recompress and Optimize JPEG by an average of 30% without loss in image quality

---
5426) Riding Clock 1.2
Riding Clock shows riding(scrolling) clock instead of standard Windows clock on your computer

---
5427) DiskSpaceFree 5.5
an advanced disk manage tool can effectively enlarge your harddisk space even more than 20%

---
5428) Deductus 1.06
Deductus is disk catalog/organizer and personal full-text search engine

---
5429) Web Camera Security System 1.0
Turn your WebCam into a Security Camera in minutes

---
5430) Web and Computer Washer 1.1
Protects your privacy and improves computer performance by removing unwanted information.

---
5431) ADing PowerAlarm 1.0
ADing PowerAlarm allows laptop computer owners to keep track of how much life (power) remains in the battery currently being used

---
5432) ConfigInspector 1.22
ConfigInspector is a free utility for analyzing system information.

---
5433) Digital ObjectRescue Professional 5.0
Recover lost files from any media. Supports images, video, documents, mail, etc.

---
5434) CastleBar 2.50.1
A powerful toolbar menu to launch applications and folders

---
5435) SpeedItUp Free 4.97
Make any PC run up to 300% faster for free.

---
5436) deset Pocket Video Maker - Palm Edition 2.0
Pocket Video Maker brings your movies from DVD or harddisk onto your Palm device

---
5437) Docktopus 1.0.1
Get useful information, access items and control applications from your Dock.

---
5438) Naevius Hidden File System 1.0
Crypt and hide your private files and documents

---
5439) NFS Windows Client to Access Unix System 6.0
NFS Windows Client for Windows users to access Unix NFS servers

---
5440) Nisba BackupAgent 500mb storage 3.6.0.1
Automatic online backup service to protect your vital data.

---
5441) HDD Capacity Restore 1.1
HDD Capacity Restore recovers full factory capacity of a hard disk drive

---

5442) File and Folder Watcher 2.8.1
Watch folders for new files (e.g. FTP), and trigger a custom action

---
5443) RegFix Mantra 4.1
Extremely effective Registry Cleaner designed to Fix Windows Registry Errors

---
5444) 1st JavaScript Editor Pro 3.5 3.5
It is the best JavaScript editor for JavaScript, DHTML and Ajax developers!

---
5445) XP SafeGuard 1.02
Tweak XP for performance and security with this free utility.

---
5446) JustBoot Password Cleaner 7.0
Clean passwords for Windows NT/2000/XP/2003 including Administrator.

---
5447) Password Container 1.8
Password Container allows you to keep all your passwords and codes safe.

---
5448) ! Hard Drive Mechanic ! 2006
Hard Drive Mechanic - Data Recovery, Hard Drive Repair and Diagnostics Software.

---
5449) Lomsel Shutdown 1.02
Lomsel Shutdown is a small shutdown utility

---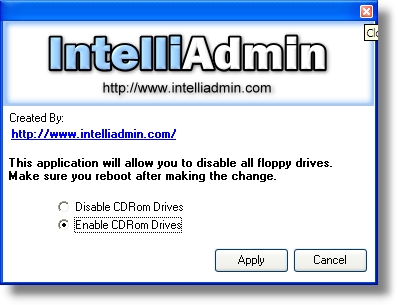 5450) CD ROM Drive Disabler 2.0
Disable CD Rom Drives

---


Browse Pages: [1] [2] [3] [4] [5] [6] [7] [8] [9] [10] [11] [12] [13] [14] [15] [16] [17] [18] [19] [20] [21] [22] [23] [24] [25] [26] [27] [28] [29] [30] [31] [32] [33] [34] [35] [36] [37] [38] [39] [40] [41] [42] [43] [44] [45] [46] [47] [48] [49] [50] [51] [52] [53] [54] [55] [56] [57] [58] [59] [60] [61] [62] [63] [64] [65] [66] [67] [68] [69] [70] [71] [72] [73] [74] [75] [76] [77] [78] [79] [80] [81] [82] [83] [84] [85] [86] [87] [88] [89] [90] [91] [92] [93] [94] [95] [96] [97] [98] [99] [100] [101] [102] [103] [104] [105] [106] [107] [108] 109 [110] [111] [112] [113] [114] [115] [116] [117] [118] [119] [120] [121] [122] [123] [124] [125] [126] [127] [128] [129] [130] [131] [132] [133] [134] [135] [136] [137] [138] [139] [140] [141] [142] [143] [144] [145] [146] [147] [148] [149] [150] [151] [152] [153] [154] [155] [156] [157] [158] [159] [160] [161] [162] [163] [164] [165] [166] [167] [168] [169] [170] [171] [172] [173] [174] [175] [176] [177] [178] [179] [180] [181] [182] [183] [184] [185] [186] [187] [188] [189] [190] [191] [192] [193] [194] [195] [196] [197] [198] [199] [200] [201] [202] [203] [204] [205] [206] [207] [208] [209] [210] [211] [212] [213] [214] [215] [216] [217] [218] [219] [220] [221] [222] [223] [224] [225] [226] [227] [228] [229] [230] [231] [232] [233] [234] [235] [236] [237] [238] [239] [240] [241] [242] [243]