Top 5101-5150 System Utilities Programs (from 12132 category titles)
Order programs after downloads or name (currently are listed after downloads)


5101) Advanced System Optimizer - Aff Ver V2.0
clean and repair registry, improve PC performance, customize Windows

---
5102) Image for DOS 2.55a
Disk imaging software to easily backup, restore, or copy your hard drives.

---
5103) Free Undetectable Keylogger 5.2
Free Undetectable Keylogger is an easy-to-use monitoring tool.

---
5104) XPeRT Keyboard 6.0
The XPeRT Keyboard is a FAST, EASY alternative to the standard Qwerty keyboard (designed in 1878 to slow down typing and prevent jamming of mechanical keys).

---
5105) AssetDB 1.4.48
AssetDB is an Asset Database that scans remote PC''s, combined with networking and diagnostic tools

---
5106) ZeroNetHistory 1.65
ZeroNetHistory 2005 free trial is the ultimate defense against identity theft.

---

5107) TimeSync 2.3.0
TimeSync allows to adjust the clock of your Computer using the Internet.

---
5108) ViFFO 1.3
ViFFO is the most powerful 32-bit utility for Windows which provides users with a capability to structure and get a fast and easy-to-use access to links, files and folders allocated either on a local PC or on another network workstation

---
5109) Innovatools Add/Remove Plus! 5.0
Uninstall unnecessary and unwanted Windows programs quickly and efficiently.

---
5110) SMS Express 2005 2.4
SMS Express is a powerful SMS Gateway System which provide a turnkey solution for you to immediately launch exciting mobile services with only SIM Card and GSM Phone, no need any internet connection

---
5111) Junk-Out for Outlook 2002/2000 1.00.0018
Junk-Out is an add-in for Microsoft Outlook that uses statistical (Bayesian) techniques to filter out junk e-mail (i

---
5112) SwitchSync Ex 4.0
Synchronize with both Palm Desktop and Outlook within one HotSync.

---

5113) Internet Cleaner 1.2
Remove Internet surfing tracks.

---
5114) Network Spy 2.0
Network Monitoring and Analysis Tool

---
5115) Menurites 1.4.00
Menurites automatically sorts the Start menu and/or the Favorites.

---

5116) Tempo 2.12
A simple and smart reminder with some more.

---
5117) Swift Paste 1.0
Swift Paste is a clipboard software. It can store multiple clipboard datas.

---
5118) Email Address Juggler 2.75
Build and manage email lists with drag-drop simplicity, spellcheck & send mail.

---
5119) Memory Optimizer 1.0.0.51
Extremely easy to use interface - Memory Optimizer was built with one thing in mind

---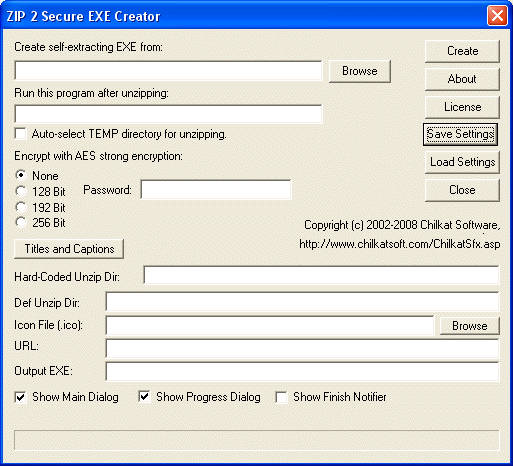 5120) Chilkat Zip Self-Extractor 8.1.0
Create self-extracting ZIP files optionally with unbreakable AES encryption.

---
5121) Magic Date Picker 1.0
Magic Date Picker will help you change date on your computer very quickly.

---
5122) NeighborhoodIdentifier 3.5.2
Changes startup settings upon available networks for laptop users.

---
5123) SoundGraffiti 1.1
Laser effect Visualization plugin for WinAmp.

---
5124) Cipherlok 2.1
Easy to use Blowfish based file encryption using passwords or USB Tokens

---
5125) RemindMe 2.0
RemindMe is the schedule ANYTHING software, from running tasks to sending email

---
5126) HotBar 2.05
HotBar makes it easy to open You favorites program

---
5127) Flobo CD DVD Recovery Multimedia 1.5
Flobo CD DVD Recovery Multimedia a windows based application that recovers files

---
5128) Whats On My Computer 2.0
Find out about any file, folder, or program on your computer - search the web for the information you need

---
5129) Easy2Sync for Outlook 3.01
Sync Outlook e-mails, contacts, tasks, etc. between PST-Files and/or Exchange

---
5130) Easy Wipe 2003
Easy Wipe is a utility for deleting files and destroys magnetic information from disk and makes files unable to recover by unerase or undelete softwares

---
5131) BytesRoad SafeLauncher 1.5
Run an application under the specified Windows account.

---
5132) Activity Indicator 1.0
This small software shows your working activity during the day in a small XP styled window that could be placed anywhere the screen

---
5133) Where Is It? 3.72
WhereIsIt? takes snapshots of your disks and allows offline media browsing.

---
5134) Advanced File Manager 1.0
Complete file and disk management, monitoring

---
5135) Any Place Calculator 1.2
Any Place Calc allows you to make calculations in any place where it is possible

---
5136) SafeLauncher 1.5
Run an application under the specified Windows account.

---
5137) Desktop Reminder 2.0
Small and simple prog. that will remind you to do things that you usually forget

---
5138) EngCalcLite(Fluid Mchanics) - Palm Calculator 1.1
The best selling program for engineers now with new reference tables & Evaluator

---
5139) Quick Recovery for Linux 10.x
Software for Recovering Linux Data from Accidental File Deletion from Hard Disk

---
5140) SearchGun 1.3
SearchGun is a full-text search by file content utility

---
5141) Folder Marker 1.0
Lets you mark your folders with color-coded and image-coded icon. Free.

---
5142) TimeAnalyzer - Time Tracking Tool 1.0
Track and audit the time you spent on each computer program (process)!

---
5143) LCleaner 1.2.3.48
LCleaner is a FREE tool to free up space from temporary files and clean registry

---
5144) Goodnight Timer 1.1
Automates computer shutdown and gently reduces sound volume over time.

---
5145) Test My Hardware 1.1
Test My Hardware - Free PC Hardware Testing Tools

---
5146) A RegSweep 2008.069
RegSweep is the latest in PC error diagnostic and repair. Scan Your PC For Free!

---
5147) Registry Fix and Cleaner 5.7
Fix Errors, Speed Up your PC, Stop Crashes. Restore and Clean Windows Registry.

---
5148) VOIP Phone Buddy for SKYPE 2.0.21
Automatic Desktop Pphone dialing software for Skype and Jajah - VOIP Phone Buddy

---
5149) Free Windows Registry Cleaner 1.0.0
Free Windows Registry Cleaner - Repair Registry Error for Free

---
5150) CiAN File Splitter Pro v3.85
Split, Self-join, compress, encrypt and SFV Checksums capabilities ...

---


Browse Pages: [1] [2] [3] [4] [5] [6] [7] [8] [9] [10] [11] [12] [13] [14] [15] [16] [17] [18] [19] [20] [21] [22] [23] [24] [25] [26] [27] [28] [29] [30] [31] [32] [33] [34] [35] [36] [37] [38] [39] [40] [41] [42] [43] [44] [45] [46] [47] [48] [49] [50] [51] [52] [53] [54] [55] [56] [57] [58] [59] [60] [61] [62] [63] [64] [65] [66] [67] [68] [69] [70] [71] [72] [73] [74] [75] [76] [77] [78] [79] [80] [81] [82] [83] [84] [85] [86] [87] [88] [89] [90] [91] [92] [93] [94] [95] [96] [97] [98] [99] [100] [101] [102] 103 [104] [105] [106] [107] [108] [109] [110] [111] [112] [113] [114] [115] [116] [117] [118] [119] [120] [121] [122] [123] [124] [125] [126] [127] [128] [129] [130] [131] [132] [133] [134] [135] [136] [137] [138] [139] [140] [141] [142] [143] [144] [145] [146] [147] [148] [149] [150] [151] [152] [153] [154] [155] [156] [157] [158] [159] [160] [161] [162] [163] [164] [165] [166] [167] [168] [169] [170] [171] [172] [173] [174] [175] [176] [177] [178] [179] [180] [181] [182] [183] [184] [185] [186] [187] [188] [189] [190] [191] [192] [193] [194] [195] [196] [197] [198] [199] [200] [201] [202] [203] [204] [205] [206] [207] [208] [209] [210] [211] [212] [213] [214] [215] [216] [217] [218] [219] [220] [221] [222] [223] [224] [225] [226] [227] [228] [229] [230] [231] [232] [233] [234] [235] [236] [237] [238] [239] [240] [241] [242] [243]