Top 4451-4500 Software Development Programs (from 6501 category titles)
Order programs after downloads or name (currently are listed after downloads)


4451) HierCube OLAP library for VCL 4.48
VCL components for creating OLAP applications in different IDE. Own OLAP-engine

---
4452) Oracle Join Two Tables Software 7.0
Horizontally merge (combine, match, union) two Oracle tables

---
4453) EasySQL Deploy Plus 1.1
Pack MSSQL database data and schema (fully or incremental update) as .exe file

---
4454) Easy Registry ActiveX (OCX) 1.0
Registry ActiveX(OCX) control for developers.

---
4455) Shutdown Reboot Logoff ActiveX (OCX) 1.0
ActiveX (OCX) to shutdown, reboot, and logoff, hibernate or lock computer.

---
4456) System Info ActiveX (OCX) 1.0
ActiveX (OCX) to get information about the system, processes, bios and more...

---
4457) MoneyToys Down Payment Calculator 2.0
Down Payment Calculator for web sites lets visitors do the math on your site

---
4458) conaito PPT2SWF SDK 2.2
conaito PPT2SWF SDK for developer of professional PowerPoint-to-Flash solution

---
4459) ASP/Text2PDF 1.00
ASP component that allows web developers to automatically convert text to PDF.

---
4460) ASP/Registry 1.00
ASP component that allows web developers to access to the Windows registry.

---

4461) DataGrid Columns .NET assembly 2.06.201
DataGrid Columns .NET assembly for VB.NET, C#, C++ (DataGrid Combobox)

---
4462) ASPNetFlash 2.6.0
ASPNetFlash - The ASP.Net WebControl for Adobe Flash media (.swf files)

---
4463) Oracle Append Two Tables Software 7.0
Vertically merge (combine, match, insert) one Oracle table into another. The tab

---
4464) Image Uploader 5.0.0.5
Image Upload Component, A Powerfull solution for your sites to upload thousands of images

---
4465) VintaSoftTiff.NET Library 2.1
Upload image onto server and save it in multipage TIFF file.

---
4466) Download Control 3.02
Support BreakPoint download,a client ActiveX control easy to realize the download batch files from internet/intranet

---
4467) HTTP File Upload Control 6.0.0.36
A File Upload/Download Component,Support large File upload, BreakPoint upload

---
4468) Aspose.Form for .NET 1.0.0.0
Aspose.Form is a GUI based InfoPath management component for web applications.

---
4469) Barcode-Writer.NET 1.2.0.0
Barcode-Writer.NET for creating Barcodes from their .NET applications

---
4470) DB Solo 2.0.2
Database development and management tool for developers and administrators

---
4471) GlossContourâ"¢ Button and Surface .Net 2007.02.14
High performance glossed .Net button and surface classes.

---
4472) MSSQL2MySQL Sync 1.2.0
Bi-directional synchronization tool for MS SQL and MySQL databases

---
4473) Freeware XMLFox XML/XSD Editor 2.01
XMLFox is a validating XML editor, available as a desktop application

---
4474) Xload 1.2_14
Java/JSP FILE UPLOAD/MANAGEMENT API for App. Server or Standalone environment

---
4475) ID Application Protector 1.2
ID Application Protector is a first-range protecting system.

---
4476) IncPlugins 1.0.0
Scalable plugins-based web site engine for PHP with dynamic CSS and JS

---
4477) EMS Data Import 2005 for Oracle 3.0
Import data from MS Excel, MS Access, DBF, TXT, CSV, XML files to Oracle tables.

---
4478) OraCmd 1.1
OraCmd is a command-line tools doesn't require Oracle client software.

---
4479) Project Browser+ 4.3.95
Replacement for VB6 project explorer and much more!

---
4480) PDF Metamorphosis .Net 2.2.0
.Net component converts RTF to PDF and HTML to PDF in ASP.Net

---
4481) MyUpdate Toolkit 1.1
Easily integrate great-looking update functionality into your software product.

---
4482) 2D / 3D CAD Import .NET: DWG, DXF, PLT 6.3
CAD Import .NET - read AutoCAD DXF/DWG (inc.2008), PLT, CGM in MS Visual Studio

---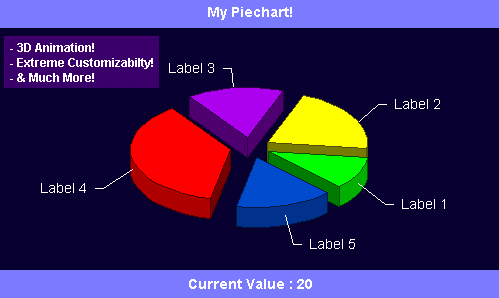 4483) 1-2-3 PieCharts! 123.45678901
1-2-3 PieCharts, easy as 1-2-3!, is a cool new 3D animated java piechart that lo

---
4484) PrecisionID PDF417 ActiveX Control 1.3
PDF417 ActiveX Control for barcoding in Access, Excel and VB.

---
4485) Image Viewer CP ActiveX OCX SDK 5.1
ocx activex graphic VB, VC++, Delphi, PowerBuilder, VFP, .Net

---
4486) DC Dynamic Compoenents 3.1
gives you full control, from back-end programming to interface design.

---
4487) Sync For SQLServer 1.2
Tool for comparison and synchronizing MS SQL Server database schema and data.

---
4488) X360 Tiff to Pdf Image ActiveX OCX 2.0
TIFF,PDF embed tags viewer for PDF, multipage TIFF image activex ocx

---
4489) X360 Multi-page Tiff Converter OCX 2.11
Fax,photo,converter,tiff image activex ocx, converter bmp,gif,jpg,png,tif

---
4490) The Atomic Memory Model 2.1
The Atomic Memory Model is a powerful memory handling technology.

---

4491) SignalLab .NET 4.5
SignalLab is a set of .NET components, for fast (DSP)Digital Signal Processing.

---
4492) ExcelSmartTools Premium Edition 1.0
This Add-In adds and enhances Microsoft Excel commands and functions. Many impr

---
4493) MSD Employees Multiuser 2.00
MSD Employees, complete and easy to use employees information manager

---
4494) BotVerify for ASP.NET 2.00
ASP.NET web control that helps web developers prevent automated registrations.

---
4495) WebImager 1.0
WebImager ActiveX can capture the entire web page as JPG, BMP, PNG and GIF image

---
4496) x360soft-Image Viewer ActiveX OCX(Twice) 4.0
Imaging activex view,save,zoom,resize images,bmp,gif,jpeg,png,multi-page tif,fax

---
4497) Visual ELearning Design Studio 8
CD Autorun Menu and Windows Application Creator

---
4498) DB Zipper V1
Packages and unpacks database tables. An easy way to migrate and backup data.

---
4499) Exl-Plan Micro (US/Canadian edition) Software 1.0
Business plan projections for new smaller businesses

---
4500) PASSWORD OFFICER 2000 Software 1.0
Generate and recall complex passwords at will.

---


Browse Pages: [1] [2] [3] [4] [5] [6] [7] [8] [9] [10] [11] [12] [13] [14] [15] [16] [17] [18] [19] [20] [21] [22] [23] [24] [25] [26] [27] [28] [29] [30] [31] [32] [33] [34] [35] [36] [37] [38] [39] [40] [41] [42] [43] [44] [45] [46] [47] [48] [49] [50] [51] [52] [53] [54] [55] [56] [57] [58] [59] [60] [61] [62] [63] [64] [65] [66] [67] [68] [69] [70] [71] [72] [73] [74] [75] [76] [77] [78] [79] [80] [81] [82] [83] [84] [85] [86] [87] [88] [89] 90 [91] [92] [93] [94] [95] [96] [97] [98] [99] [100] [101] [102] [103] [104] [105] [106] [107] [108] [109] [110] [111] [112] [113] [114] [115] [116] [117] [118] [119] [120] [121] [122] [123] [124] [125] [126] [127] [128] [129] [130] [131]