Top 551-600 Software Development Programs (from 6501 category titles)
Order programs after downloads or name (currently are listed after downloads)



551) MSISQL (ISQL for Microsoft SQL) 1.0
Windows GUI database administrator tool for MSSQL

---

552) Proximity Functions for MS Access 1.1
Add professional functionality to your MS Access apps without programming

---
553) SDE for JDeveloper (ME) for Windows 3.2 Modeler Edition
JDeveloper UML modeling plugin: UML diagrams, code generation, model to code,

---
554) HTML Help Generator for Visual Basic 6.0 2.0
HTML Help Generator for Visual Basic 6.0 creates HTML Help for your VB apps

---
555) AdventNet SNMP API - Free Edition 4
AdventNet offers a comprehensive development toolkit for SNMP-based networks.

---
556) VectorDraw Standard 5.0.1.1036
Add powerful 2D graphics to any application. UNICODE support.

---
557) PDF Chart Creator Dynamic Link Library 1.00
Creates charts from data as PDF royalty free using a Dynamic Link Library

---
558) Cutter 2.46
Does the calculation and making of the patterns of garments.

---
559) SQLSourceSafe V3.1
The integrated version control solution for SQL Server database

---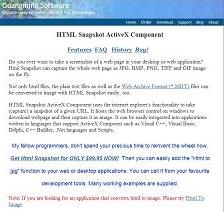 560) HTML Snapshot 2.1.2010.501
Capture webpages and convert html pages, SVG, VML to jpg, tiff and gif or bmp.

---
561) MarshallSoft DUN Dialer for Visual Basic 2.1
MarshallSoft Dialup Networking (DUN) Component for Visual Basic. Ver 2.1.

---
562) Menu Applet Builder 1.4
slide menu applet builder has a range of configurable features, including:Menu icons

---
563) SCML LABEL PRINTER .NET 2.00
DLL .NET to print/preview labels

---
564) QXchange 1.6.2
QXchange is a profile based ETL application that can integrate data between MS Access, text and excel

---
565) Web Bot Programming Library 1.0.0
Web Spider ActiveX Component

---
566) Serial Port ActiveX Control 2.5
Serial Port component for communication with external devices.

---
567) Data Base Scripting Pages 1.1
DBSP accelerates the development cycle of complex database Web solutions.

---
568) Teroid Data Export Control 2.0
.NET component providing a set of properties and methods for exporting data

---
569) Predictive Lite 1.3
Basic metrics analysis and defect prediction for any size C or C++ project.

---
570) Setup Factory 7.0.5.1
Setup Factory 7.0 makes fast and reliable software installers

---
571) MSDE Manager 4.32
MSDE Manager allows you to do all of the common operations of MSDE admin.

---
572) FlatAll for Delphi 2.0
By placing our component on the form, you will create new "face" for the app!

---
573) Javascript SlideMenu 1.0
Creating slide menu on web pages.

---
574) Vivid Report Free for Delphi 6 2.0
Powerfull library of report design components for C++ Builder and Delphi.

---
575) Ahead Studio Suite 1.30
Ahead Studio Suite is a full-featured suite of ActiveX components for

---
576) WinTransRC 1.4.5
WinTransRC helps you to manage MS Visual C++ multilingual resource files (*.rc).

---
577) ESBPCS for VCL - BCB4 Trial 2.3.2
Huge collection of Components and Routines

---
578) PatchWise Free 3.29
A free easy-to-use patch generator for software or file updating.

---
579) Access2PostgreSQL Sync 1.4.0
Database synchronization tool for MS Access and PostgreSQL databases

---
580) SocketWrench .NET Edition 4.5
A managed code class library for Internet programming in Visual Studio .NET

---
581) HTTP Weazel 1.09
Tool for ripping whole websites including all accompanying objects

---
582) Access Data Transfer Assistant 2003 3.3
Copies data between 2 copies of a database for delivery of newer app to customer

---
583) ANPR 1. 0. 10. 5
Select a directory with car images and ANPR reads their number plates regis

---
584) CodeHealer 2.1
A program source code analysis and verification tool for Delphi

---
585) Numap7 7.06a
Freeware for fast development and application of approximation type networks

---
586) OraLobEditor 1.8
OraLobEditor is a Oracle LOB(CLOB,BLOB) field edit tool.

---
587) SCIROCCO RegEdit Control 1.0
Make modifications to the Windows Registry Easy with this ActiveX control!

---
588) Orbital's SQL Decryptor 3.0
SQL Server 6.5, 7.0, 2000 and 2005 encrypted object decryptor

---
589) XE-Date Control 2.1
Date / Date Range picker ActiveX. Convenient way to input period of dates

---
590) conv_for_bas 4.1
Fortran 77/90 to Visual Basic Converter

---
591) Report Generator 1.46
Powerful generation of professional reports. Download full version, no prot...

---
592) Census Bug Tracking and Defect Tracking 6.0
Bug tracking and defect tracking tool. VSS integration, workflow, notifications.

---

593) ErezPP1LTR Print Preview ActiveX Control for VB6 1.4.1
ErezPP1LTR OCX is a FREEWARE Print Preview ActiveX Control for VB6.

---
594) Xceed Chart for ASP.NET 4.1
The common-sense ASP.NET chart component for creating spectacular 2D/3D charts

---
595) DespeckleHelper 1.0
DespeckleHelper performs the process of removing speckles from images.

---
596) Aspose.Project 1.4
Aspose.Project component that can read and write Microsoft Project documents

---
597) ADVDAUDIO 1.5
ADVDAUDIO is a DVD audio ripping developer ActiveX, easy to use in applications with high ripping speed

---
598) Professional News Ticker Applet 3.2
News ticker applet with image support

---
599) DFMToSource 2.1
DFMSource converts Delphi or C++Builder DFM files to source code.

---
600) Neat Install 1.0
Neat Install is an InstallShield and the other installation tools graphics.

---


Browse Pages: [1] [2] [3] [4] [5] [6] [7] [8] [9] [10] [11] 12 [13] [14] [15] [16] [17] [18] [19] [20] [21] [22] [23] [24] [25] [26] [27] [28] [29] [30] [31] [32] [33] [34] [35] [36] [37] [38] [39] [40] [41] [42] [43] [44] [45] [46] [47] [48] [49] [50] [51] [52] [53] [54] [55] [56] [57] [58] [59] [60] [61] [62] [63] [64] [65] [66] [67] [68] [69] [70] [71] [72] [73] [74] [75] [76] [77] [78] [79] [80] [81] [82] [83] [84] [85] [86] [87] [88] [89] [90] [91] [92] [93] [94] [95] [96] [97] [98] [99] [100] [101] [102] [103] [104] [105] [106] [107] [108] [109] [110] [111] [112] [113] [114] [115] [116] [117] [118] [119] [120] [121] [122] [123] [124] [125] [126] [127] [128] [129] [130] [131]